Doses of sodium bicarbonate at 5%, as indicated in the Simoncini treatment are innocuous. In fact they have been used without any problems for over 30 years in a multitude of other deseases such as:
Severe diabetic ketoacidosis (1)
Cardiopulmonary resuscitation (2)
Pregnancy (3)
Hemodialysis (4)
Peritoneal dialysis. (5)
Pharmacological toxicosis. (6)
Hepatopathy. (7)
Vascular surgery operations (8)
Gamba, G., "Bicarbonate therapy in severe diabetic ketoacidosis. A double blind, randomized, placebo controlled trial." (Rev Invest Clin 1991 Jul-Sep;43(3):234-8). Miyares Gomez A. in "Diabetic ketoacidosis in childhood: the first day of treatment (An Esp Pediatr 1989 Apr;30(4):279-83).
Levy, M.M., "An evidence-based evaluation of the use of sodium bicarbonate during cardiopulmonary resuscitation" (Crit Care Clin 1998 Jul;14(3):457-83). Vukmir, R.B., Sodium bicarbonate in cardiac arrest: a reappraisal (Am J Emerg Med 1996 Mar;14(2):192-206). Bar-Joseph, G., "Clinical use of sodium bicarbonate during cardiopulmonary resuscitation–is it used sensibly?" (Resuscitation 2002 Jul;54(1):47-55).
Zhang. L.,"Perhydrit and sodium bicarbonate improve maternal gases and acid-base status during the second stage of labor" Department of Obstetrics and Gynecology, Xiangya Hospital, Hunan Medical University, Changsha 410008. Maeda, Y., "Perioperative administration of bicarbonated solution to a patient with mitochondrial encephalomyopathy" (Masui 2001 Mar;50(3):299-303).
Avdic. E., "Bicarbonate versus acetate hemodialysis: effects on the acid-base status" (Med Arh 2001;55(4):231-3).
Feriani, M., "Randomized long-term evaluation of bicarbonate-buffered CAPD solution." (Kidney Int 1998 Nov;54(5):1731-8).
Vrijlandt, P.J., "Sodium bicarbonate infusion for intoxication with tricyclic antidepressives: recommended inspite of lack of scientific evidence" Ned Tijdschr Geneeskd 2001 Sep 1;145(35):1686-9). Knudsen, K., "Epinephrine and sodium bicarbonate independently and additively increase survival in experimental amitriptyline poisoning." (Crit Care Med 1997 Apr;25(4):669-74).
Silomon, M., "Effect of sodium bicarbonate infusion on hepatocyte Ca2+ overload during resuscitation from hemorrhagic shock." (Resuscitation 1998 Apr;37(1):27-32). Mariano, F., "Insufficient correction of blood bicarbonate levels in biguanide lactic acidosis treated with CVVH and bicarbonate replacement fluids" (Minerva Urol Nefrol 1997 Sep;49(3):133-6).
Dement'eva, I.I., "Calculation of the dose of sodium bicarbonate in the treatment of metabolic acidosis in surgery with and deep hypothermic circulatory arrest" (Anesteziol Reanimatol 1997 Sep-Oct;(5):42-4).
Sodium bicarbonate is used therapeutically as an antacid and a urinary/systemic alkaliser in humans and animals (Budavari, 1997). Sodium bicarbonate is used in domestic products like detergents and cleaning products, soap, toothpaste and cosmetics (Solvay, 1996).
The product sodium bicarbonate (baking soda) is also available for consumers and it has been ingested for example to alleviate heartburn or to improve the digestion of food.
Sodium bicarbonate is classified by the U.S. Food and Drug Administration (FDA) as a 'Generally Recognised as Safe' (GRAS) ingredient in food with no other limitation than current good manufacturing practice (FDA, 1978; FDA, 1983). In the EU it is approved as a food additive (EU, 2000) and a feed ingredient (EU, 1998).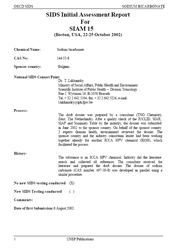 more chemical information about sodium bicarbonate (.pdf)