In 1995 a prostectomy for prostate carcinoma was undertaken.
Three years later I noticed, following an ecographic scan, a relapsing nodule in the prostatic area (Fig. 1).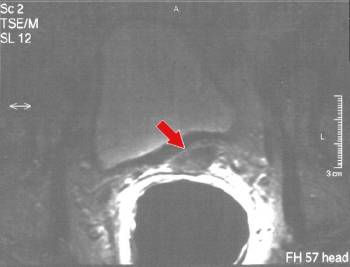 Treatment with hormonal therapy. In July 2000, treatment with ultra-sound.
Since the first months of 2001, increment of the TSP values (prostatic specific antigen) an increment in the size of the nodule.
On July 23, 2001, a magnetic resonance scan with endorectal coil is performed, which highlights the nodule, the dimensions of which are 2.2 by 2.5 cms.
On July 25, 2001, a catheter is positioned in the hypogastirc artery. Through it, every day for seven days, 5% bicarbonate solutions (500 ccs) are administered.
After the treatment, values constantly drop from August to October. A magnetic resonance scan performed with endorectal coil highlights the dramatic reduction of the nodule which is now round, hyaline and fibrous (Fig. 2).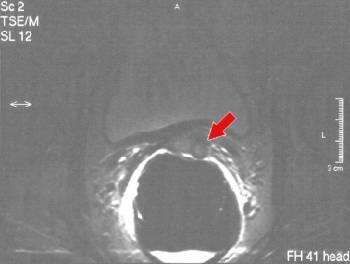 About two months later, a second consolidation cycle is performed intravenously. A magnetic resonance scan with endorectal coil performed in March 2002 shows that even the residual noticed in October has completely disappeared (Fig. 3).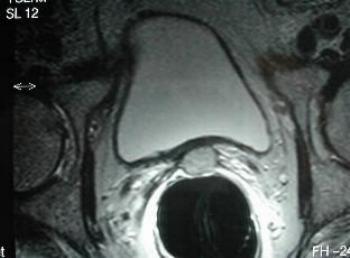 The PSA values have been constantly decreasing since October, 2002.
THE PATIENT'S STATEMENT 15 MONTHS AFTER THE THERAPY
"I the undersigned… live in Rome and I am a medical surgeon and I declare that I turned to Doctor Simoncini for a prostate tumour relapse which, in spite of conventional therapies, was progressing. Specifically, I underwent the treatment with arterial administration of sodium bicarbonate at 5%. Afterwards, Doctor Simoncini performed on me peritoneal washing with the same substance by introducing a needle in the epigastrium, that is, in the opening to the stomach. Before the treatments, Doctor Simoncini gave me no certainties; he just told me that his treatment could be efficacious.
However, what convinced me beyond words was his conviction and great vital energy. I realised that he acted professionally and with an honest intention. After the therapy, the tumour disappeared and I had no negative effects."