Clinical case – eyelid melanoma
A 60-year-old patient is affected by melanoma of the right lower eyelid with progression in the conjunctive.
In October 2000, a laser treatment with surgical intervention followed by plastic reconstruction is proposed. The patient puts those therapies on hold and submits herself to my therapies.
For 10 days she performs washing with sodium bicarbonate in the conjunctive, which completely eliminates the mass that was protruding it.
For the whole following month, a daily painting with 7% iodine solution is performed on the neoplastic mass. The painting is repeated 20-30 times in the same session. The result is the almost complete destruction of the neoplasm. A month after, an identical cycle is repeated, and this totally eliminates the melanoma.
The first pictures were taken in October 2000 when the first phase of the treatment with sodium bicarbonate was already started. Before the beginning of the treatment, the mass in the eye was even more noticeable. (figure 1)
before treatment with 7% iodine tincture
fig. 1) October 2000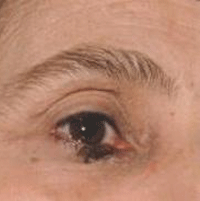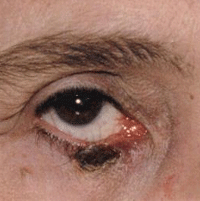 The next pictures , taken in May, 2002, demonstrates that the neoplasia, once it had disappeared, no longer presented itself after one-and-a-half years, and only a tiny scar was left. (figure 2)
after treatment with 7% iodine tincture
fig. 2) May 2002