Cerebral metastasis in diffused melanoma
A 45-year-old (female) patient undergoes surgery on the left leg for melanoma about one-and-a-half years earlier. After that, the patient undergoes surgical intervention on the upper left pulmonary area for metastasis.
In spite of several chemotherapy cycles performed at the end of the year 2000, numerous metastases of the brain are found. These metastases grow, notwithstanding several subsequent chemotherapy cycles. Furthermore, there are metastases in the suprarenal glands and in the colic area.
BEFORE: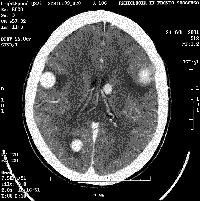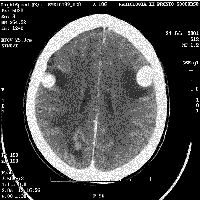 In March 2001, the patient starts a treatment cycle with intravenous sodium bicarbonate solution, which is able to stop the progression of the metastatic localizations. It is therefore decided to start a more aggressive treatment cycle, through the administration of sodium bicarbonate directly on the masses by using selective arteriography of the cerebral arteries, through which it is possible to position catheters in the arteries that nourish the tumoral formations. After a six-session cycle performed in mid-May 2001, the metastases appear to have visibly regressed.
AFTER: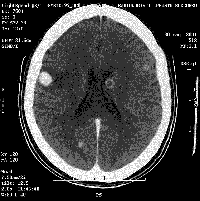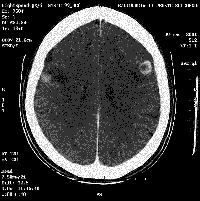 The patient should have undergone another cycle between June and July to eliminate the cerebral masses completely. However, intra-abdominal lesions appeared in the meantime.
After the installation of a catheter for the treatment of this, the patient experiences an infection which delays further treatment for the cerebral masses, making it impossible to adequately treat and destroy them. The patient dies several months later.