Source:
Journal of Australasian College of Nutritional and Environmental Medicine Vol 23 No 1 April 2004. pages 3 – 8
Article by:
Luke Curtis MS, CIH, Allen Lieberman MD, Martha Stark MD, William Rea, Marsha Vetter MD PHD.
Introduction
In recent years, public attention has become increasingly focused on the very real problem of mould (fungi) inside both home and workplace and on the very real dangers posed by such mould exposure to human health.
This position paper is presented by the American Academy of Environmental Medicine (AAEM) to describe the current knowledge of adverse health effects of indoor mold.
There is considerable evidence in the medical literature validating the many different health effects reported in airborne mold exposed patients.
Allergies and asthma
Exposure to mold can occur when airborne mold cells, mostly spores, are inhaled. We breathe in these cells every day, indoors and out. Usually these exposures do not present a health risk.
But when exposure is great, some individuals, particularly those with allergies and asthma, can experience illness that could be mild to serious or anywhere in between.
Nexus Magazine
In this article more information about the health effects of indoor molds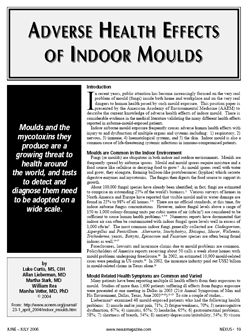 This article has been published in Nexus Magazine

 read the article (opens PDF in new window)

 go to Nexus